Addicts tend to be people who can't be okay unless they're having fun. And number one in fun is your drug of choice! Fun fun fun. Even those old Temperance Movement etchings make the slow descent into irreversible alcohol-fueled failure look ... how do we say this ... fun?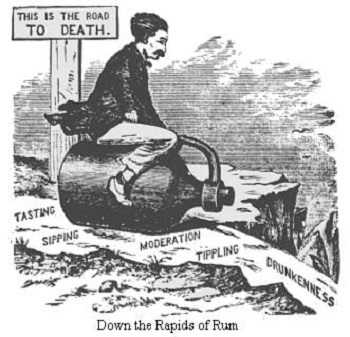 thebeerbarrel.net
Even Groucho Marx likes to let loose sometimes.
Like, what is so bad about that? It's a fairly gradual gradient; he's not going to die. The only thing he's in danger of is having a good-ass time. Plenty of people float down a river while drunk. It's called tubing.
art.com
The lines are brutal for Devil's Toboggan Slide, so definitely spring for the FastPass!