Dad explains that he told the kids they'll be able to use their phones as much as they want if they shovel some snow. Surprised, his wife reminds him that they could already do that thanks to Verizon's Friends & Family Share Plan, to which the father simply says: "Yeah, they don't know that." What he really means is: "Thank you, Verizon, for helping me win at parenting!"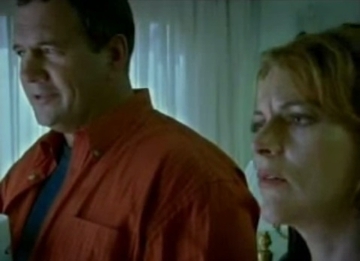 Verizon Communications
"Someone won't be cry-drinking himself to sleep tonight!"
What It's Really Saying:
The family in the commercial has completely fallen apart.
First of all, a jacket hastily thrown over what appears to be a tank top made out of one-ply toilet paper is not the proper attire for "freezing" weather, as the dad described it.
Verizon Communications
But the kids don't give a fuck, because every second wasted putting on more clothing is another second spent not talking on the phone to their friends, the only people in their lives who truly matter to them. Their parents evidently don't qualify, because based on the mother's surprised reaction, the siblings' typical response to being told to do chores has long been to pat their parent on the shoulder and walk away, laughing under their breath the entire time. But the second Dad promised them unlimited phone use -- that is to say, a way to detach themselves even further from their family life -- shit, they were probably sprinting out the door when they heard that, constantly yelling at each other to hurry up (and calling the other one by the wrong name because it's probably been months since they last had a real conversation).
So now there they are, finally helping out around the house they want nothing to do with, watched over by a man who's lost so much of his son and daughter's respect, he now has to think of them as enemies to be outwitted. That's why they are so hard at work, and why, when the mom asks "How did this happen?" I don't think she is talking about the shoveling.
Verizon Communications
"Wow, how did this happen?"
"One day at a time..."