And at the center of it all is Jason Statham. From Crank to Death Race to The Mechanic, Statham is one of the last action heroes who remains staunchly unapologetic for his contributions to absurdity. He refuses to take himself seriously as an actor, possibly because acting is a career he stumbled into in the first place.
Before he became an action hero, Statham was nearly an Olympic hero, assuming divers are recognized as heroes somewhere in the world. He was on Britain's National Diving Squad, and ranked 12th in the 1992 World Championships.
British National Diving Team
There are only two things separating this photo from one of Dr. Manhattan.
But apparently the world of diving doesn't pay that well, so Statham supported himself by selling counterfeit jewelry and perfume on the street corners of London. Just to be clear, Statham was funding his dreams of competitive pool jumping by hawking black market perfume out of a suitcase. It is unlikely that any job requirements following that could ever seem ludicrous.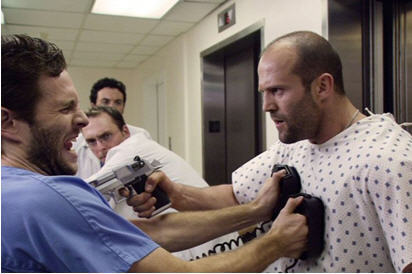 Lionsgate
Another goddamn day at the office.