5 Reasons Gun Control In The United States Is A Lost Cause
Gun control is a polarizing topic in the United States, and for damn good reason. Every year, tens of thousands of Americans die as a result of injuries caused by firearms. That coupled with the litany of mass shootings that have dominated headlines in recent years makes curbing gun violence a national priority. At the same time, an also sizable portion of the country seemingly fears nothing more than a tyrannical government swooping in and taking all the guns. As a result, the steps we take in the name of curbing gun violence often come off as ceremonial gestures at best. We talk about a few examples on this week's Unpopular Opinion podcast ...
... where I'm joined by comic Jeff May and Cracked art dude Randall Maynard. I'll do the same in this column right damn now. Off we go!
We Worry Most About Guns Criminals Use The Least
No weapon draws the ire of the anti-gun crowd quite like the AR-15. It's been described in recent reports from respected publications like the New York Times, PBS, Washington Post, and Al Jazeera as the weapon of choice for mass murderers in the United States. While it's true the AR-15 has been used in a mass shooting or two, these reports are overstating the problem a bit.
The truth is that, in a lot of ways, the AR-15 is kind of like the pit bull of guns.

Mr. Worldwide!

Despite what the above photo may imply, I'm actually referring to the dog. They've both at various times been characterized as nothing more than killing machines that no clear thinking American would ever want in their home, but just as pit bulls are really just good boys and girls, the AR-15 is ... just another gun. Sure, it looks scarier than most, and it's definitely the weapon of choice if you're looking to kill from a long distance but also on kind of a budget, but beyond that it isn't any more or less dangerous than most other guns.

Contrary to popular belief, it's not an assault rifle. People who use that term are thinking of automatic weapons like the M16. Those guns include a selector switch with an "automatic" setting. When that's engaged, the gun will continuously fire for as long as you hold down the trigger, just like in motherfucking Rambo.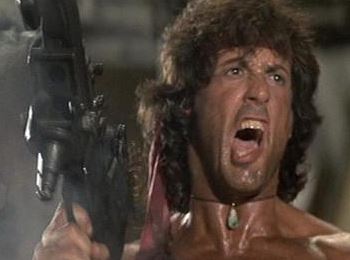 "It's called First Blood, asshole!"

The AR-15 doesn't have this option. You have to pull the trigger each time you fire. It's a semi-automatic weapon, just like countless handguns.

So why is it the preferred weapon of most mass murderers? It's not. Yes, it was used in the mass shootings in San Bernardino and Newtown, but reports that an AR-15 was used in the Orlando shootings turned out to be incorrect. The weapon used in that crime was a Sig Sauer MCX, which kind of looks like an AR-15 but uses a firing system that makes it more comparable to the much deadlier AK-47.

Mother Jones magazine has been tracking mass shootings in the United States since the assault weapons ban was lifted here in 2004. Since that time, they've documented 46 mass shootings, and only 14 involved an AR-15. The deadliest mass shooting in this country prior to Orlando was the 2007 massacre at Virginia Tech, which was pulled off using two handguns. Mass shooters use the guns they have available. Outlawing the AR-15 alone won't impact that in the least.

Sure, you can buy extended clips for the AR-15 that allow you to fire more times before reloading, and savvy murderers can modify it to operate like an automatic weapon, but you can also do all of those things with a handgun, as demonstrated at the 0:34 mark of this mildly terrifying video.

Or in this handy GIF!

Don't get me wrong, I'm not saying the AR-15 is a good thing, but as this Salon.com article put it, banning the AR-15 to stop mass shootings is like "regulating drunk driving by banning Scotch." You'd get damn near the same results doing nothing at all. Speaking of that ...
Scroll down for the next article