Everyone in that poster is in the middle of something. They're busy. They don't have time to care about anything other than trying not to get killed. All but one, that is: Scarlet Witch, who's played by Elizabeth Olsen. Of all the Avengers, she's the only one who noticed that someone set up a canvas and decided to capture this terrifying, unspeakably bonkers moment in human history by painting it. Scarlet Witch couldn't help but notice that an unseen spectator wanted to capture her fierce battle essence, so she struck a sassy pose for the artist as she obliterated a robot's head: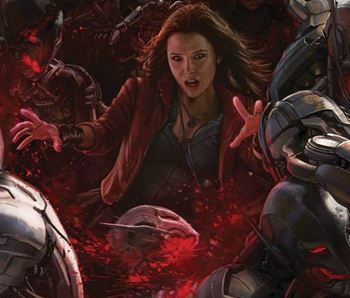 Marvel/Disney
The Hulk's there trying to rip robots off his body, and Captain America is trying to bulldoze his way through a murderous metallic sea -- Scarlet Witch, meanwhile, thinks she's the center of a flash mob. She's bustin' moves and projecting her inner Sasha Fierce. Splatting that robot's head into red mist is just a repercussion of her passionate choreographed dance. And I know she's dancing because she's in the middle of performing the exact move the Backstreet Boys do in the video for "Everybody."
She's an opportunist. Humanity is about to be killed off by a sentient robot and his legion of robot soldiers -- might as well get a modeling contract out of it. And if working it doesn't land her a career worthy of a Kardashian, she'll use her insane power to alter reality as she sees fit to get herself some of the precious mana of fame she richly desires. Work it, girl; get that cover of Cosmo.