Because of that, if you join a band thinking women will funnel toward you like geese following the warm season, you're sorely, sadly, laughably mistaken. But that's the cliche, right? It's an axiom that transcends culture. A purely human phenomenon where one simply causes the other. Guitar = Sex. Not mathematically proven, but evidenced throughout history by otherwise ugly assholes like Gene Simmons collecting over 4,000 scalps for his mantelpiece. And he plays bass. It's not even a real guitar.
George De Sota/Hulton Archive/Getty Images
Nice tongue. Overcompensating much?
So you're finally in a band, and a month goes by. Then a year. Played a few gigs here and there, which was novel and, I don't know, kind of exhilarating. But by now you're probably asking yourself, "Well, where the fuck is my Penny Lane?" After all, you're now almost famous yourself. Assuming you're single, you've probably by now introduced your newfound musical prowess to every social circle you can think of to leave no potential vagina unturned, repeating a variation of the same gambit over and over:
"Did I mention I'm in a band? You should come see us play." Cue the laws of nature.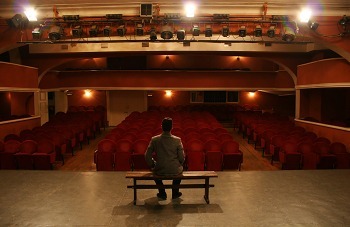 Pavel Losevsky/Hemera/Getty Images
We live in a lawless society.
And that's when it hits you. Something you should've already known. It's not about the music. It's about the money. Or, more specifically, the security that money promises. Security that playing in half-empty dive bars and local lounges doesn't project. Without it, you are still viewed as just a teenager dicking around with false hopes of fame and fortune, regardless of your actual age or ambitions. The guitar is ultimately meaningless. It's a totem that supposes the actual attraction: power. Penny Lane exists only in a special realm populated by famous people with money. She says it herself: "Famous people are just more interesting." Simmons is Derek Jeter is JFK is Hugh Hefner is Fidel Castro.
As it stands, there's a whole ocean of luck, talent, circumstance, and hard labor separating you and them. Maybe if you keep your head down and keep playing, you'll get there someday and laugh about that time you whined that you couldn't get laid. But that day ain't today. Today you got other things on your mind, like finances, because ...