#18.
A multi-cultural group of friends are out for an adventure and learn what matters more: the size of your tank, or the size of your heart.
#17.
The Buzz Boar is easily the most devastating weapon in the COBRA arsenal, if viewed from the perspective of a weary parks groundskeeper.
#16.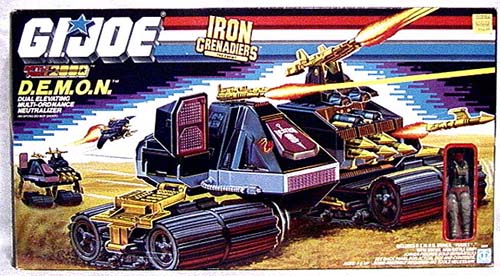 The D.E.M.O.N. can raise itself vertically on extendable legs, and is thought to be the only tank in the world capable of launching the deadly Teabag ordinance.
#15.
Here the "dudes hanging off the side" motif has gone a smidge too far. If that boat is symmetrical, I have no idea what that poor scuba diver is standing on. A seal? It's a mystery.
#14.
The Fang is possibly the most fragile air vehicle in history, and during the COBRA Wars of the 1980's, American forces shot down 14,982 of them, injuring close to a dozen pilots.
#13.
Equal parts dangerous and hilarious; I particularly like the alternate spelling of "trouble."
#12.
This one hits pretty much all the GI Joe vehicle high spots: Huge glass cockpits, a scarily exposed turret, and the ability to launch smaller, more comical vehicles. The only thing missing from this is about 12 dudes hanging off of it, but for all I know, they could be on the other side.
#11.
A classic of COBRA military design, the elevated treads serve no purpose other than to make it look cooler, but they certainly succeed at that.