These two went to war.
Heath Herring vs Yoshihiro Nakao K-1 Dynamite!!! 2005
As Heath Herring and Yoshihiro Nakao met in the center of the ring on New Year's Eve, the pre-fight staredown began. This is an an important part of the fight drama-- a final opportunity to either offer your opponent respect or to measure his dick against yours. Tonight things would go in a much different direction. Nakao stepped in as if to intimidate. Then he, surprise, sweetly kissed Herring on the mouth. Herring hated it. He let the rage build for a moment and unleashed it with a tiny punch against Nakao's chin. Nakao went out cold, probably more from a broken heart than a rattled skull.
As Nakao pretended to be dead, Heath Herring stormed around the ring, proclaiming that
HE'S NOT A HOMO!
He sounded less and less convinced as he repeated it. I think he was trying to ward off the invisible wizards that make you gay when your lips touch a boy and he was losing. As this went on, Nakao never did get up. They carried him out, hospitalized from rejection and face tap. This led to a difficult problem for viewers since all the insults you'd use for a fighter pretending to be unconscious are completely inappropriate to use if the guy is, you know, actually medically that way. This led to a difficult problem for the promoters too. Do you declare the fight a draw? Do you disqualify the guy for sexual assault or the other guy for regular assault? I have to say, two men kissing isn't nearly as gay as showing up for a fight and getting a philosophical debate instead. You kissing assholes! If I wanted first base, an argument, and someone pretending to be asleep, I would have spent New Year's with my girlfriend!
Anderson Silva vs. Demian Maia UFC 112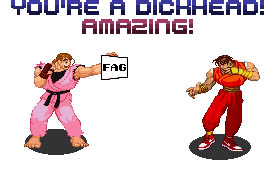 Demian Maia is one of the many people smart enough not to attack Anderson Silva. In fact, if that was the measure of intelligence, Demian Maia might be the smartest man alive. He stood almost perfectly still in front of Silva for almost 25 minutes, but he's not the villain in this story. This is the fight where Anderson Silva earned his black belt in High School Bully. Once he saw that Maia wasn't doing anything, Silva teased the fellow Brazilian with little dances and Portuguese racial slurs. It looked like two children playing video games with Anderson Silva being controlled by a racist little brat and Demian Maia controlled by a kid whose Internet kept going out. This wasn't a fight. This was a boy jamming fireworks into a helpless cat while a crowd booed.
Despite the slow pace of the fight, it seemed like 15 minutes of making fun of white people and doing The Macarena was too much for the champ. He spent the last 2 rounds retreating in a circle and catching his breath. And while Silva didn't find the time to throw many attacks during this dance recital, one of the shots still fractured something near Maia's eye. When this happens and you blow your nose, your eye swells shut like an air mattress. Demian Maia blew his nose. That meant that for the rest of the fight, Demian had to watch this shimmying dickhead taunt him through an eye that looked like a body builder's vagina. At the risk of inventing an Internet fetish, his entire field of vision must have looked like Chyna giving birth to a boxing glove.