Sample Lyrics: Whatcha gonna do with all that breast? All that breast inside that shirt?
The response to this line is "Imma make make make you work, make you work work make you work." Not only is this borderline illiteracy, I feel like the Black Eyed Peas really missed out on an opportunity to rhyme shirt with squirt.

#7. Ms. New Booty by Bubba Sparxxx feat. Ying Yang Twins
After several attempts to decode this song, I decided that it refers to booty 73 times. However, I should let you know that I learned how to speak jive from
Dolemite
movies, and as the dialect changed I got more and more confused. I honestly haven't been sure what black people are talking about since 1989, even when they happen to be Caucasian like Mr. Sparxxx here.
Sample Lyrics: Bootybootybootybooty rockin' everywhere! Bootybootybootybooty rockin' everywhere! Bootybootybootybooty rockin' everywhere!
I think it's a testament to my whiteness that every time I hear this, a small part of me always thinks there's been some kind of horrible disaster. I mean, I
think
I know what "rockin'" means, but I thought I knew what skeets were, too. Let's put it this way: I know better than to ask Bubba Sparxxx if all his friends have medical diarrhea, but
I think they might
. Let me introduce you to your new favorite Internet superstar. Do whatever the fuck you think you can to get ready and hit play.

#6. Rump Shaker by Wreckx-N-Effect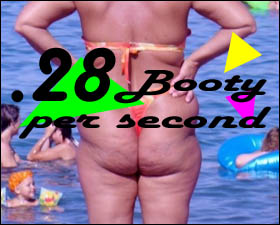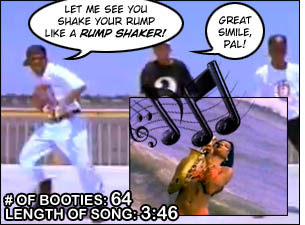 I joke about how I have no idea what rappers are talking about, but when you stick your face next to a half-naked woman playing saxophone on the beach and tell me that all you want to do is a zoom-zoom-zoom and a poom-poom, I know exactly what you mean. You're signaling to your mind-hive in high orbit that our young are ready for harvest. Hiding in plain sight... very clever, Gornaxian.
Sample Lyrics: Shake it, shake it, shake it, now SHAKE IT! She can spend every birthday BUTT NAKED! Body is soft; make me wanna SQUISH HER! More chest than a game, a rumper like a SUB-WOOFER!
I think Wreckx-N-Effect made a pact when they were nine-years old that when they get a record deal they would never, ever change a word of the song they just wrote.