Batman
movie. And during their mission to change us to the funky side of life, the shaking of your ass gets mentioned many, many times.
Sample Lyrics: "Rumpofsteelskin he don't rust and he don't bend He's got dynamite sticks by the megatons in his butt"
You can't really tell if Rumpofsteelskin is an anti-aircraft gun emplacement or if Parliament is trying their best to call in a funky bomb threat. Of course, the fact that you're trying to figure it out makes you dangerously unfunky.

#9. Booty Clap by Prince Paul
Hip-hop songs are notorious for giving instructions to the listener, but if you follow all the commands in this song, your genitals and ass will probably emancipate themselves. The first part is all about slapping your own ass cheeks together. It's called the Booty Clap. You can use it to either taunt toilets or tell hip-hop artists you're ready for sex. Just as you start to wrap your head around this concept, the song throws you a curve ball by demanding that everyone also wave their dicks in the air. This is where you realize that you're in the wrong club.
Sample Lyrics: "(Make that booty clap!) We got the asses and the dicks all up at the same time (Make that booty clap!) (Make that booty clap!) There's gon' be some penetration"
Well, at least the songwriter had the foresight to know what would happen with all those exposed dicks and booties flying around. From what he was telling me to do for the first part of the song, I wasn't sure he actually knew what those things were.
This isn't the song itself, but an appreciation of an actual Booty Clap. It's safe-ish for work, unless you work at a zoo, because this woman's ass claps are the exact signal for seals to attack. Here's the
actual video
.

#8. My Humps by Black Eyed Peas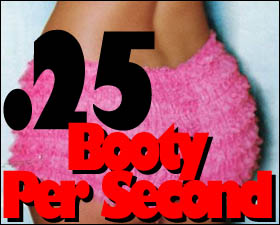 It's strange that the shittiest song ever could only make it to the eighth spot on a list of songs about poopers. I'd like to thank third grade for that joke.