The Players:
Winston Churchill, one of Britain's best-loved Prime Ministers, helped lead the nation to victory in World War II by sitting on his fat ass, smoking cigars, and delivering more quotable lines than an entire staff of
Simpsons
writers. Churchill was such a powerful force in English politics that his death ensured work for ugly British actors for at least the next millennia. During his time in Parliament, he often had the occasion to square off against the conservative Lady Astor, first female member of Parliament and renowned wit. Whether Astor's penchant for attacking Churchill was due to his being a heavy drinker, occasionally sexist, or simply a worthy sparring partner, their scuffles proved that if there's anything politicians do well, it's talk some serious shit.
Setting the Scene:
I should actually say "scenes." Astor, who eventually became a Christian Scientist, didn't much cotton to Churchill's habit of smoking cigars by the case while double-fisting whiskey sours. Churchill may have started the rivalry when he compared Astor's election to Parliament to be "like being intruded upon in the bathroom." To which Astor replied "you're not handsome enough to have such fears." Reportedly Churchill then choked on a lungful of cigar smoke, eyed her through the haze, and muttered "it's on now." And on it was, with such exchanges as: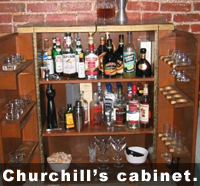 Churchill: "What disguise would you recommend I wear to your costume ball?" Astor: "Why don't you come sober, Prime Minister?" Astor: "If you were my husband, I'd poison your tea." Churchill: "Madam, if you were my wife, I'd drink it." But perhaps the best-loved Astor/Churchill battle is the following, made doubly impressive by the fact that, by the admission of both parties, Churchill was visibly drunk at the time--
The Zing:
"Mr. Churchill, you are drunk!"
The Comeback:
"Yes, and you, Madam, are ugly but tomorrow I shall be sober and you will still be ugly."
What We Would Have Said:
"I won World War II,
Ass-turd
, so shut it. You know, Nazis? Hitler? Your
face
."