"Sexy Jailbird"
too cutesy for your tastes? Too subtle, perhaps? If you want to let the party know you're desperate - and maybe a little dangerous - the
"Sexy Escaped Convict"
might be the costume for you. According to
HalloweenStreet.com
:
"Sexy escaped convict costume is for any woman wanted to run away... Accessorize with fishnet pantyhose, ball and chain and shackles and be ready to be captured or get away." [sic]
I have no idea what that means, but I have a feeling it's
sexy
. It's got fishnets!
Sure To Attract Guys Dressed Up Like:
Agent Smith, Richard Nixon, A "Crazy" Doctor
Sexy Factor (out of 10):
2
---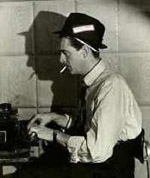 Wild Card
Extra, Extra! Reporter Discovers The Internet!
Reuters reported yesterday that
people are searching for naughty things on the internet
. As if that weren't bad enough, some of the keywords allegedly included "Sex," "Hitler," "Burrito," and "Viagra." Can you
believe
it? In case you were wondering, the source for the article was "data from 2004 to the present retrievable on the
"Google Trends"
Web site." I'm immediate suspicious of anyone who makes the word "website" two words. Anyone worth their weight in internet has probably been screwing around with
Google Trends
long enough to know this is old news. Besides, they don't need to pay some fat cat journalist millions of dollars to dig this crap up! For a small fee, I would've been
glad
to tell them that
anal was more popular than Africa for most of 2006
, or that
soup is more popular than drywall
. All they had to do was ask! By the way, Reuters:
You're less popular than cancer
. That's gotta sting.