Why did this happen to me?
Hmm. Most robocopification happen to existing police officers. Were you a cop before?
No. I was an unsuccessful unemployed man.
Hang on. Your lack of success led to you being unemployed?
No. I mean that even for an unemployed guy, I was pretty unsuccessful. Other unemployed people scorned me.
OK, well that probably explains it, then. It was because of your status as an incredible loser that you were selected for this honor/horror. You had nothing better to do, and no one would care if you went missing, and also they didn't have to use the good cyborg parts on you.
So what should I do? Clean up the streets? Like in Robocop?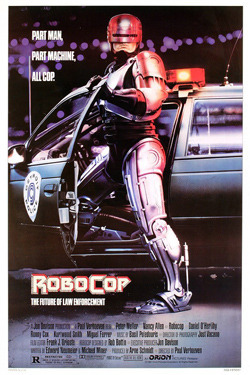 Or spray blood all over the streets? Like in Robocop?
Violently wasting criminals probably isn't your purpose here. Remember, Robocop was a semi-satirical movie based on the concerns of the era in which it was made. A robocop in today's world would reflect our current concerns about crime and the police. Given the steady stream of unflattering news about the police's habit of targeting minorities, I imagine a modern robocop would use his incredible abilities to be civil and ethical and otherwise improve the public perception of law enforcement.