This is confusing.
Is it really? As discussed, children navigate mazes like this all the time. Seriously, this is a foolproof strategy for navigating any maze. Almost any maze.
Almost any maze?
It is conceivable that the topography of the labyrinth features a loop, which would make this a foolproof strategy for going around in circles.
Can I not do that?
Not really. If there is a loop, the best you can hope for is identifying it, and only going in a circle once. Try to leave some kind of distinguishing mark here that you'll recognize if you came back this way.
I don't have anything to leave a mark with.
Blood. A chunk of hair. One of your teeth. Poop.
I don't have anything I want to leave a mark with.
Come on. No one's going to know if you squeeze out a path-finding turd here.
I'll know.
So will I, actually. OK, forget it. Off you go, touching the right wall, and if you happen to spend several weeks doing that without escaping, we'll assume you're in a loop and switch to the other wall.
-several weeks do not pass-
Wait. I just heard footsteps.
That'll probably be the Minotaur then.
The half-man, half-bull thing? That's not a real thing, is it?
Are labyrinths real things?
Apparently. But how would you even make a Minotaur?
Well, the Minotaur of Greek legend was supposedly made when the wife of Minos fell in love with an especially attractive bull. She then climbed inside of a fake wooden bull, and so disguised, mated with this crazy beautiful bull. Later she gave birth to the Minotaur.
Wow.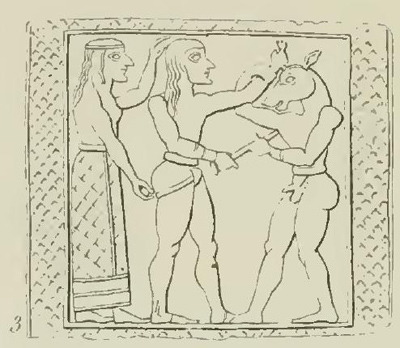 Wikimedia Commons
Greek legend makes even dwellers of the dankest corners of the Internet look like amateurs.