How To Double Your Productivity By Tomorrow Morning: A 12-Step Guide
It might feel like there's a force field preventing you from getting out of bed before 8 a.m., but it doesn't have to be that way. To help you feel legitimately excited about the day's tasks, this step-by-step time guide will teach you how to invest your time instead of simply managing it.
Make More, Work Less: Time Management + Productivity Course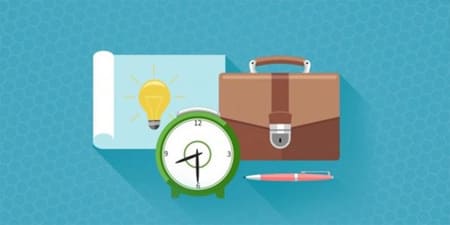 Even the most talented juggler can only have so much up in the air at one time. Discover how to examine your habits closely for inefficiencies in this 5.5-hour productivity primer. Here you'll see which proverbial flaming chainsaws are worth keeping in the air, and which can fall by the wayside.
Entrepreneur Productivity Hacks
There's more to being an entrepreneur than listing it as your job on Facebook. You have to create tangible value in the world, and maybe list it on LinkedIn too. You can learn the easiest, time-savviest ways to do whatever your business entails with this compilation of winning strategies.
Instant Public Speaking Master Class
Imagining the audience in their underwear might work for your off-Broadway show, but speaking to the board of directors is a different story. If you want to become a better listener and not turn your job interviews into a ticking time bomb of awkwardness, this 3.5-hour lesson is just the ticket.
Get Things Done: How to Organize Your Life And Take Action
Doing things shouldn't be so hard. But when all the things are both difficult and boring, it takes some superhuman willpower to get them done. Check out this productivity training for some expert advice on smashing your to-do list into tiny productivity bits.
Don't miss out on this bundle, and get it for over 90 percent off today in the Cracked Store.
You know what they say about idle (idol?) hands ... they inevitably lead to Indiana Jones Mugshots. Get your buns in gear and sidestep the Federation Anarchy, and May The Odds Be Ever In Your Flavor.
Don't stop now! You're on a roll! Keep keepin' on and check out Become The Busiest Worker Bee With These 7 Courses.
More Blogs