maimed
. In front of your family. But I don't. Because I know, deep down, that you're just an impressionable young pop star, falling into the same stupid traps our obsessive culture sets for all of your kind. Miley, listen to me, because I may be the only person speaking from a place of truth on this one. We already know the people making your decisions at the moment aren't exactly
out for your well-being
. If they were, I wouldn't be masturbating to you as I write this.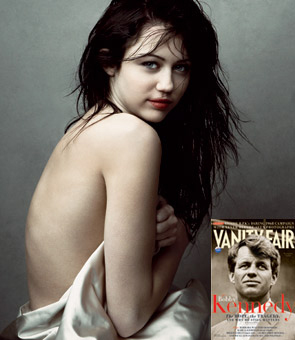 Does that creep you out Miley? Well, try to get past it, because I've got some deep shit to lay on you and I'm not going to stop. Miley…DO NOT JOIN THE CHURCH OF SCIENTOLOGY.
I know they've had Travolta hounding you
, and I know he's cool. Damn cool. I mean, the guy's licensed to pilot 747's, and rocks one of the meanest upside-down goatees I've ever seen.
But you know who else piloted 747's? Terrorist hi-jackers. And you know who else has awesome facial hair? Biker gangs.
And you want to know a dirty little secret? They're all Scientologists. Scientology is more than harmless idiocy; it's a dangerous cult, a confluence of all the world's evildoers. Even Beck.
Don't believe me? Ask literally anyone who isn't a Scientologist about Scientology, and watch what happens. They're either going to laugh at you or shake their fist in anger, and neither is a good endorsement when choosing a faith. Look, I understand if you're looking for some meaning in your life right now. I would be too if I were just getting old enough to realize what an empty shell of a human being I'm going to have to live as for the next eight years before I die on a Heroin overdose in a truck stop bathroom. But if you've got to go in for a crazy fad religion, why not Kabbalah? I don't know that much about it, but Madonna's pushing it pretty hard and as far as I know she's one of the only of your kind to make it into her thirties with some semblance of a career. I've read