That's an article by Sputnik, another Putin-owned news site, from back during the election. It's alleging that Google manipulated search results to make Hillary seem like less of a monster. I found it being shared from one gigantic left-wing Facebook group to another gigantic left-wing Facebook group. And here's a Russia Today article I found shared on Reddit's largest pro-Donald group, r/the_donald, featuring famous right-wing fuckwind Milo Yiannopolis: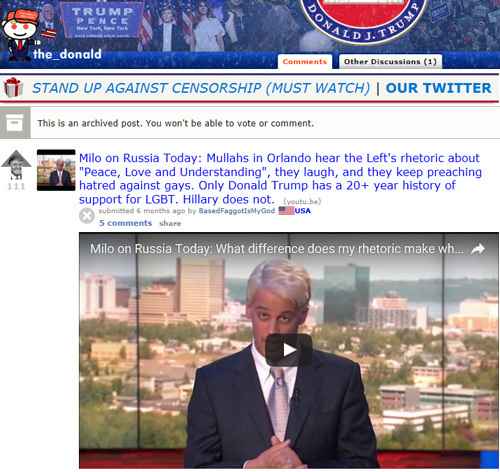 The Donald/Reddit
Both of these pieces of content were squirted out onto social media orifices and served the same goal: attacking Hillary Clinton. The first piece targets angry left-wing Sanders supporters who already felt the primary was rigged against Bernie. The second piece is aimed at young right-wing voters who really think we should bomb more Mosques but are basically cool with gay people.
I'm not going to spend the rest of the article debating the validity of these stories. They could both be 100-percent true, and it wouldn't change the fact that they're evidence of what might be the most savvy propaganda operation of the internet age. In fact, the Kremlin's propaganda works so well because many of the articles aren't outright false.
Most of them are based on a grain or three of truth. But when you run through a bunch of headlines, it's not hard to see what messages the Kremlin wants to get out ...