And speaking of incredibly racist shows ...
#4. We Are Indifferent About Our Monkey
I'm not surprised this went on for ten seasons, because so much of America is fucking racist. Seriously, the casting for this show is just offensive on so many levels. Why would they name the dad Lu Ping and cast a white dude? It was an easy script change, but for some reason they insisted on claiming the show was about a stereotypical Asian family. To the show's credit, the monkey was always hilarious.
#3. Bait Shop
Even though Bait Shop was horribly acted, it featured some of the best one-liners on TV ever.  I was particularly fond of "Do you want some ketchup for your bait?"  That one is definitely classic, although "Or maybe some mustard, stupid?" is pretty good, too.  Out of all the turdish performances the show had to offer, the best actor was definitely the horse that played all of the actors' mouths. It's not a surprise Bait Shop won Best Makeup for every year it was on the air.
#2. Makin' Faces
Makin' Faces is my favorite UK import of the last fifteen years.  Set at an ultra-hip boarding school, it's about a crusty old drag queen who tries hilariously to keep four best friends in line.  Whenever the crusty old drag queen has her back turned, you guessed it, these chickadees make some hilarious faces and undermine her authority to the max.  If you never liked the show, you clearly didn't get it, because above are just a few of the faces the girls make.  So yeah, I think I proved my point about Makin' Faces.
#1. What Show Is This? Benson?
This is the best meta sitcom I am aware of.  What Show Is This? Benson? managed to reunite the entire cast of what I think is Benson.  It mostly featured characters asking things like "What show is this?  Benson?"  and "Does it make me more or less racist that I only recognize the black guy?"  This particular photo is important to the legacy of the show because of how utterly bone-chilling it is.  The girl in the red outfit, you see, was not there when the picture was taken.  They eventually made a movie about it called The Haunting of What Show Is This?  Benson?
Shows I only remember the titles of...
Fireman Ruins Dinner Every Night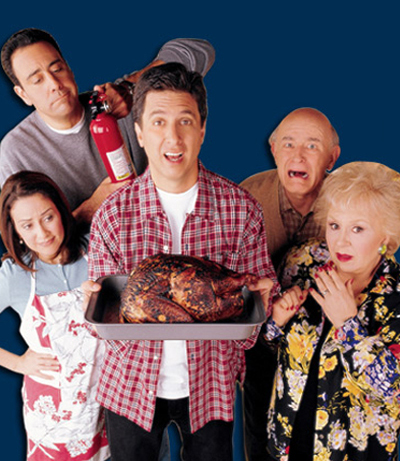 There Were This Many Characters On Perfect Strangers?
Men Hold Fish Like This, Women Hold Fish Like This
Poland:  1939
What's The Deal With All These Invisible Backs Of Chairs?
The Single Guy
---
Cody is aware of
Facebook
and
Twitter
, and so can you be aware of them.