The Crew then busts out the lamest dance moves I've ever seen, and I've seen my own. As an anemic white nerd who lives on the internet, my dance repertoire is limited to gentle rhythmic swaying, flailing attempts to copy the nearest cool person, and I guess I need to do something with my hands. But watching these motherfuckers made me feel like Michael Jackson, or whatever more relevant popular dancer someone who doesn't say "repertoire" would name.
Despite the fact that they dance like it's illegal to have rhythm, the other actors occupying the library go from "pretending to be annoyed by this intrusion into their study environment" to "pretending to be caught up in this totally wild party." The Crew convinces these grumpy squares that learning is for nerds, while cool kids have dance parties that use Pringles cans as props to maximize brand exposure. But if you pause the ad at just the right moment, it becomes clear that this is not a party. This is a group of actors having a collective existential crisis.
Pringles, The Soulless Tool Of A System That Hates You
Pringles Fun Fact: Fergie Lite wanted to star in gripping indie dramas, but those don't pay for the operation her dog needs.
Near the end of the ad, the stern minions of anti-Pringles orthodoxy, represented by a librarian and the world's least intimidating security guard, try to shut down this totally off-the-chain shindig. Authority hates everything that Pringles stands for, and events in the library have gotten so out of control that, uh, someone in the background is clearly still more than capable of working peacefully. Goddammit, Pringles, you can't even get your own nonsense ad right.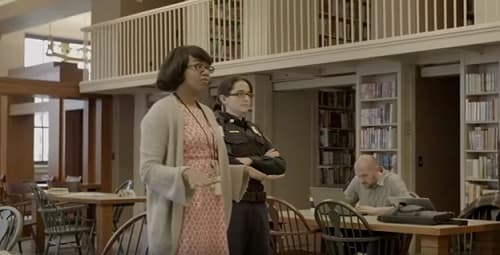 Pringles, The Monsters Who Think "Cheeseburger" Is A Chip Flavor
Pringles Fun Fact: All cops eat Old Dutch like the fascists that they are.
Tragically, the ad does not end with the security guard tasering the Crew and confiscating their Pringles stereo. Instead, they're convinced to join in on the "fun," because the power of harsh vibes are no match for the power of Pringles. The Crew and their new acolytes pose for the camera at the end, with the guard showing off a Pringles can with all the enthusiasm of a conservative substitute teacher who got roped into explaining how a penis works to a bunch of 13-year-old girls.
Pringles, The Brand That Vomits A Thousand Black Tentacles
Pringles Fun Fact: Police officers showed Flava Crew videos to prisoners during interrogations before the ACLU intervened.