---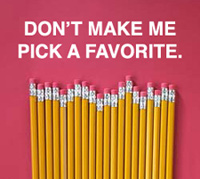 Pointless Blog Roundup
Pointless Blog #2: Bob Truby's Brand Name Pencils
I'm not going to call anyone's hobby stupid. I'm sure that Bob Truby loves pencils, loves collecting them and taking high-resolution pictures of them and archiving them on his website,
Brandnamepencils.com
, and that's good enough for me. Whatever floats your boat, right? Some people collect stamps. Others birdwatch or build ships in bottles. Bob Truby collects pencils, takes pictures of them, and puts them on the internet. Good for him. What's your poison?
WWII-era?
Oversized ferrule
(whatever that means)? Got a favorite brand? He's got
134 of them
here to sort through. Now what were those ones called again? You know - the ones we used back in grade school? Oh yeah - YELLOW ONES.