But hands-down the most egregious example is probably the crocodile that "moves with the sinuous motion of a real crocodile" and not at all like a kitten trying to escape a sleeping bag.
PBS
A drunk kitten.
After five episodes, it's a tight battle for what's more deserving of your sadness: that these spasming, unsteady dummies are the best we can do in robotics, or that they actually work, because despite all my complaints, the animals are fooled. All the species they target are completely duped by the Cylons, or at the very least, they don't think these hunks of metal stuffed in fur coats are dangerous enough to eviscerate. You will find yourself rooting for each animal community to figure out this is not a family member or loved one, you'll want to see them rip each android head from its shoulders like Ash in Alien, but they never do, at least on camera. Hey, speaking of the cameras!
The Cameras On The Robots Don't Actually Work
PBS
In the old days, they'd draw straws to see which cameraman would die to get such captivating footage.
As much as Spy In The Wild is trying to persuade animals into accepting gear puppets into their community, they are working just as hard to persuade you that this endeavor is scientific. The show meekly requests that we all pretend nature documentarists never saw Planet Earth and don't know how to get outstanding footage of every single species in the world already. They want us to believe that the only way to see meerkats up close is to stitch an iPhone camera into a dead one and then glue it to a stump.
PBS
"Pay no heed to my vessel. My flesh is your flesh, natural ones."
The truth, however, is that only about one percent of the camera angles actually come from those stuffed animals. The bulk of the show's shots are from normal nature documentary cameras set up all around the robots because, and I can't stress this enough, humanity has already figured this shit out. Throughout the series you can see how torn Spy In The Wild is between trying to use their garbage T-800 eye cameras (the entire conceit of the show) or lingering on beautiful wide-angle shots of their robot bushbaby scaring the shit out of a chimpanzee.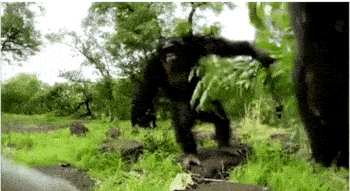 PBS
The same thing happens if you try to photograph Robert Brockway in the wild.