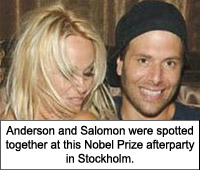 Imagine for a moment that you're
Rick Salomon
. What does that mean? It means that you grew up rich among the upper echelon of Hollywood's elite, but your crowning achievement is changing camera angles while receiving a blowjob from Paris Hilton...
without interrupting the blowjob.
That's actually nothing to sneeze at, come to think of it. I can't think of anything that Paris has ever done that can trump it, except maybe surviving
this David Letterman appearance
without killing herself in front of a live studio audience. So if you're Rick Salomon, and the entire world has already seen you railing Paris Hilton, where do you go from there? Apparently, you
go get a marriage license with Pamela Anderson
. Then you
tell Tommy Lee that he did a bad job of fucking your bride-to-be in their sex tape.
Then you're in the news again for a few seconds and your name will be fresh in our minds when your sex tape accidentally "leaks" in a few months. Sly fox, that Rick Salomon! Here's what you have to look forward to when that Anderson/Salomon sex tape inevitably surfaces:
Classy camera angles like "shaky handheld" and "boring tripod"
Exotic locales like "on a bed" and "in the bathroom next to the shitter"
A really clever title like "One Night In Pamela"