A Love Letter to Fighter Nerds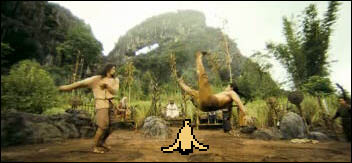 Whatever storyline
Ong Bak 2
has is taken from best six seconds of the movie every child wrote while training for his or her yellow belt. Tony Jaa's character is raised by pirates who teach him every martial art there has ever been. And it comes in handy because
Ong Bak 2
adheres to the rule that martial arts are an elaborate version of rock-paper-scissors. For example, Kenjutsu beats rope dart, but rope dart beats Teen Wolf. Which is why I'm now calling that game Kenjutsu-rope dart-Teen Wolf. Before Tony Jaa, most action porn caters to a very specific type of audience-- guys who write in to
Maxim
to ask how much beer a titty can hold.
Ong Bak 2
has any kind of action porn you might be into. The pirates teach Tony Jaa wing chun, Choi Lei Fut, samurai swording, cartwheel, Magic Missile, poetry repair, wax off, death blossom, shoryuken, robot attack and Hung Ga, a style of kung fu started when Jackie Chan went back in time to show ancient monks how to look like they're shitting their pants. UPDATE: This was not an illusion.
There's a scene where Tony Jaa gets drunk and kills a village full of slave traders with a combination of drunken boxing and breakdancing. Then later, he fights off one ninja with Muay Boran and another with five-animal kung fu at the same time. One pirate taught him a combination of stage magic and Silat, and another pirate's martial art was just being the, holy shit, master of hand grenades. If I would have read this paragraph I'm typing right now when I was 10 years old, experts would be baffled at how much semen could come out of one screaming boy. Some of them would probably take samples for testing before we realized there was no such thing as pre-teen semen experts and called the police.
A Series of Boss Fights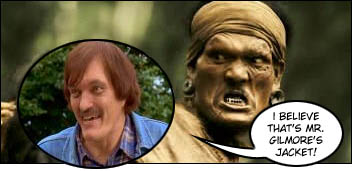 I may have mentioned earlier how Tony Jaa doesn't give a fuck. So when he saw a series of pages in the screenplay that linked one event to another, he crossed them out and scribbled in "Fight Half-Cat/Half-Vampire Lady in a Cave. Check to see if part of her could also be dune buggy." Then he wrote a memo that said, "Find this screenwriter who loves plot so much, dress him like a sexy peanut, and leave him with the horny elephants." Another phrase in Thai that only takes one word. Every time you think something is about to make sense, Tony Jaa is blindsided by some new boss. At one point, he escapes an army by climbing onto an elephant that he earlier punched, only to find a mysterious woman with raven powers. She beats the hell out of him and flies off, never to be seen again. That's how tired Tony Jaa was when he made this movie-- he forgot to introduce, explain or defeat his own boss monsters.