---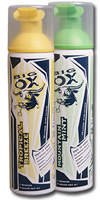 Unlock The Awesome Power Of Oxygen
I'm not a professional athlete, but if I was, you'd better believe I'd have a case of
Bix Ox Canned Oxygen
within arm's reach at all times. I'm currently getting more than enough oxygen to sustain my completely sedentary lifestyle, but it's good to know that there's a product available to give me a boost if I need one. Which I don't. According to their website:
"Today's on-the-go people enhance their diets with vitamins and all-natural food supplements. They drink pure water and energy drinks to improve their vitality. So why not enhance the fuel our bodies need most frequently?"
Good point, Big Ox, but I think you're needlessly limiting your demographic by only marketing it toward people with healthy, active lifestyles. While I'm sure people who want to be at their "peak performance" in a "high-energy environment" are ready to open their wallets up for a chance to breathe 89% pure oxygen, I can think of another group of people who would probably be equally interested:
Teenage stoners. They'll inhale pretty much anything.
(both of today's links were shamelessly filched from metafilter)
More Blogs