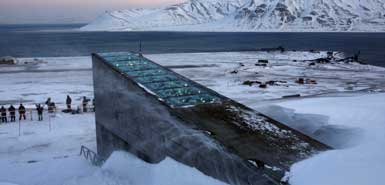 In a move straight out of Science Fiction, environmentalist scientists in the Norwegian government have built
an immense underground "Doomsday Vault"
inside a frozen mountain on a remote island as a bulwark against the inevitable nuclear apocalypse. But rather than hunkering down in said vault with porno mags, cans of beans, and the complete
Lost
on DVD, the Norwegians are doing something even crazier: filling it with seeds. And trust me, it's way less arousing than it sounds. Scientists have collected, frozen, and entombed more than 2 billion seeds from millions of plant species, hoping that in the case of a
War Games
scenario, the vault can be opened and provide humanity with instant food. Well, "instant" give or take a few seasons of cultivating fallow, irradiated soil with no tools while trying to fend off hordes of shambling mutants. It's kind of like the
Veggie Tales
version of Noah's Ark, except with more seeds and without being a laughable superstition. No, you know what it's like? It's like
Titan A.E.
What? No one saw
Titan A.E.
? Okay, moving on. This is a failure. Not in planning or engineering, but in imagination. You've got the world's biggest time capsule, and you're going to fill it with seeds?
Seeds
? Come off it Norway. I can think of ten things off the top of my head that would better occupy a Doomsday Vault. And here they are.