Pictured: Some b***h sellin' it. "Sir I… he was going to… I didn't," the receptionist tried to stammer out an explanation, but at that moment the suited man glanced over his shoulder. When he turned his gaze back a split-second later, we were all mildly surprised to find my genitals in Amir's hands again. "This man is rape's biggest fan! He's a rape expert!" I huddled back against the wall, wailing hysterically. As they dragged Amir from the building--hog-tied and positively marinated in mace--my would-be rescuer spoke to me. "I am so, so sorry about that. My name is Vance and I'm the Operations Manager here. Can I help you with anything, anything at all?" "My name is Robert Brockway, and I'm a for realsies journalist. I had a tour of the facilities scheduled for my magazine," I started the long, arduous process of lighting up my traditional post-scam cigarettes.
"I love it when a scam comes together." "That's funny, I don't see your name here…" the man said, checking some paperwork at the desk. "Yeah that is funny; I bet Amir raped it off of there or something. Listen, that's not important anyway. I've got a better story now: 'Particle Acceleration Turns All Men into Rape Aficionados.' Good headline, eh?" "Jesus, no! Listen, I'll take you on a tour myself. Show you around the place. It's really quite an amazing facility, and I'm sure you'll see that advanced physics is not at all a rape-friendly field. Unlike those god-forsaken marine biologists. Come on." He led me gently by the arm to the elevators, and we descended downward into the guts of the accelerator.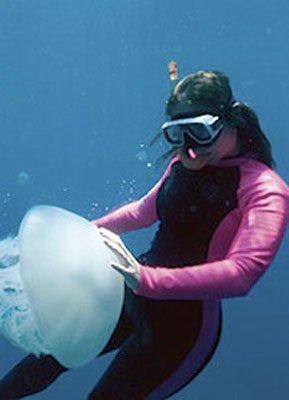 "I'm so glad I went to six years of college so I could GIVE IT TO THIS SLUTTY JELLYFISH." - Every Marine Biologist "What's this thingy, Vince?" I grabbed what is scientifically classified as a "gizmo" off the table and tossed it casually from hand to hand. "It's Vance and- oh god! Put that down!" He frantically rushed over and stole my science doowacky. "What? Is that important or something?" "Yes, it's incredibly important! All of the equipment here is terribly sensitive and just astoundingly expensive. Please refrain from touching anything. Also, we do frown on smoking on the premises. You really shouldn't smoke more than four cigarettes at a time, anyway. Would you mind putting some of them out?" "I'd love to, Vaughn, but I won't be doing that at all. Ever. There's this little thing called 'journalistic immunity.' Maybe you've heard of it? Your laws don't apply to me," I answered, striding purposefully down the nearest random hallway. I once read that it's important to maintain control in new social encounters, and the best way to do it is to subtly steer the course of conversation. So I started taking wild, random turns throughout the complex while I talked. Just, you know... just steering the hell out of that conversation. "No, you're thinking of diplomatic immunity," Vance replied, struggling to keep up.