"Like indentured servitude?"
His eyes narrowed. "Did you just come in to report our trusties?"
"I'm doing a ride-along."
He sighed a long, heavy sigh that I'm pretty sure meant he felt bad for all the crime happening that night because it wouldn't stand a chance against me. In another life, he and I could have been great partners. We both knew it, especially after we closed the books on that prison escape so quickly. But that's life on the force: It never works out like you thought it would. Maybe. I don't really know.
Photos.com/Getty Images
You're probably closer with your partner than your own wife. Unless your partner is your wife. Oooh, dibs on that CBS show.
When I finally met my ride-along officer, he was tall and quiet, like an Old West sheriff. Together we walked to the car and he immediately showed me how to unlock the shotgun from between the seats. I liked him. As we left the station, he rolled down both our windows, even though the AC was on.
"Do you have any questions?" he asked.
"Do you always keep the windows down?"
"Yep. It lets us hear everything and keeps us connected to what's happening outside the car."
"Denzel Washington does that too. Are you trying to Training Day me?"
"I'm not trying to Training Day you."
"How faithful was Training Day to your job?"
"You mean how often do detectives try to frame each other for murder to settle a debt with the mob?"
"Yes."
"Not often."
"How faithful was End of Watch?"
"Eh, that was probably an entire career pressed into a few months. I liked it, though, it was entertaining."
"How faithful was RoboCop?"
"Maybe we should take a break from questions for now."
Our first call was a domestic disturbance between a dad and his son. The dad was being evicted and the son came over to help him pack, and also to help drink all the beer in the house. Once the two were sauced enough, they started throwing things and fighting, because alcohol makes everyone the wrong kind of honest.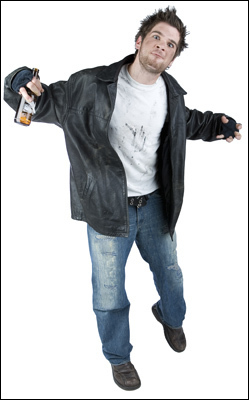 PhotoObjects.net/Getty Images
"I am more critical of your bad decisions when they reflect my own!"