SCOTTY Yes. Yes I do.
DOB Shit yeah!
DAY 14: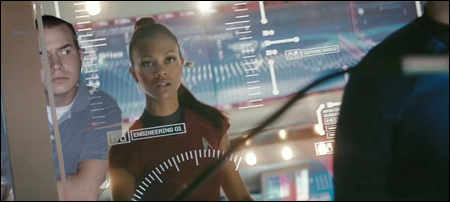 DOB approaches an already uncomfortable UHURA on the bridge.
DOB Whoa ho ho! Why, hello there, Uhurba.
UHURA It's Uhura.
DOB Yeah, we're having a good time.
He glances at his crotch and reacts in mock shock, widening his eyes and throwing up his hands.
DOB WHOA! Is that an erection in my pocket, or am I just boner to see you?
UHURA That's not how that joke works.
DOB (Adjusting a dial that for some reason exists on the front of his space pants.) Beep boop. Setting wiener to "stun," Captain, beep boop.
UHURA What are you-
DOB ENERGIZE!
DAY 18:
KHAN, a leader of EARTH'S EUGENICS WAR of the Nineties, lays in a bed in the sickbay of the Enterprise, seemingly unconscious. BONES enters to check on the patient. As soon as BONES gets close, KHAN grabs him by his throat and holds up a scalpel, stolen while BONES was out DOING SOMETHING. DOB sits over in the corner, his shoes off, his feet propped up on a desk. He eats an apple.
DOB (Chuckling) Oh ho ho, shit, he got you, Boner.
BONES (Terrified.) O'Brien, hurry, grab a security officer, KHAN must've gotten a scalpel while we weren't looking!
DOB Oh, I saw him.
BONES WHAT?
KHAN It's true.
DOB Yeah, he does his thing, I do my thing. We're cool.
DOB and KHAN shoot each other some "What's up" nods.
DOB Yeah. We're cool. He seems like an okay guy.
KHAN Thank you.
DOB Ain't no thing.
BONES For God's sake, he headed Earth's Eugenics War!
DOB Uh huh.
BONES He tried to wipe out entire races of people.
DOB Get right outta town.
BONES He's choking me right now.
DOB Maybe he is maybe he isn't. I'm not a doctor, that's not my call to make. Ask the doctor.
BONES (Turning blue) I'm the doctor.
DOB Word? (low) Hey, can you get me some Space Percocet or what?
DAY 20:
The bridge is shaking and sparks are flying. Emergency lights flash and sirens blare as red-shirted crew members fall to their victimless deaths. KIRK, his hair mussed and a bit of blood trickling down his forehead, holds onto the controls, firmly against the violent rocking of the ship.
KIRK Alright, we can get through this, but I need everyone to work together on-
He is interrupted when DOB throws a large bundle of trash right at him.
DOB SHUT UP! SHUT THE FUCK UP HOLY FUCKING SHIT SHUT UP WE'RE GOING TO FUCKING DIE!
KIRK We're going to be fine, we just-
DOB continues to pelt him with trash.
DOB WHY AREN'T YOU SHUTTING UP!? I hate you I hate you I hate you.
He flips off CHEKOV and runs away.
KIRK Okay, that's fine, we didn't really need him.
BONES What kind of journalist is he?
CHEKOV I've never seen him take down a single note.
SULU He stole my throwing stars...
KIRK It's fine, we'll get rid of-
CHEKOV Uh, Captain, I think you should take a look out the window.
We see DOB, wearing two space suits, cruising away in an ESCAPE POD. He's also managed to set off every single remaining escape pod, somehow, and they sail listlessly through space, completely empty.
KIRK Shit.
---