Let's go through some of their B-villain monologuing, starting with the dorkier parts of the statement TheDarkOverlord released after Netflix refused to comply with their ransom demands. And yes, TheDarkOverlord tried to hold episodes of a streaming TV show for ransom, as if Orange Is The New Black was Netflix's kidnapped child who would be slowly lowered into a tank of sharks unless Netflix revealed its secret identity. I don't know much about ransom schemes, but neither does TheDarkOverlord, from the sound of it.
Oh, and just for fun, I've swapped out the word "Netflix" with "Batman."
We're back again. Did you miss us? Of course, you did. We're willing to bet Batman did as well. Speaking of which, Batman clearly received our message ...
Do note that there are 13 episodes. However, we were so early when we acquired the copies that post hadn't gotten around to Episodes 11-13. Perhaps Batman will consider releasing the season earlier now that the cat's out of the bag?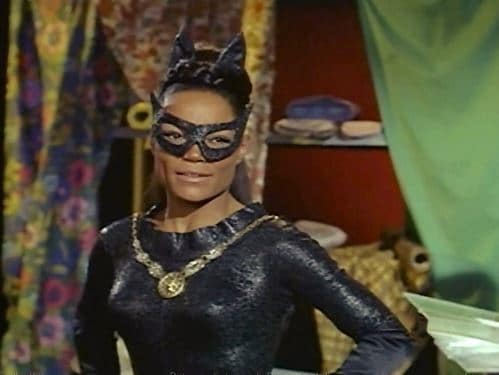 Warner Bros.
Back off, FBI. I've got this: Eartha Kitt faked her death and became TheDarkOverlord. You're welcome.