This smart license plate is a motion detector that communicates with your phone to let you know how close you are to any solid objects as you navigate the terrifying world of parallel parking. Your fender will thank you (and so will the fenders of others).
Normally $149.99, you can get your FenSens in the Cracked Shop for just $79.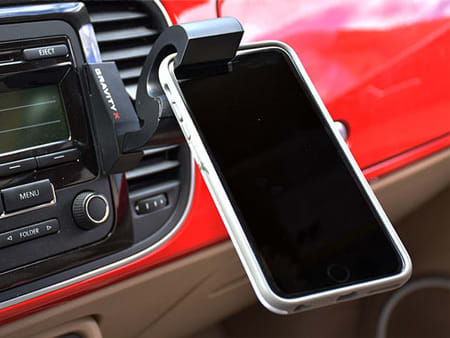 There are few car gadgets as flexible as the Gravity X. And while Gravity X sounds like a weapon Mega Man would unlock, it is actually a car mount that secures into any gap in a car's dash, trim, or vents. Gravity X uses the weight of the phone itself to trick your device into staying firmly locked in place.
Normally $29.95, grab your Gravity X in the Cracked Shop for just $19.99.
The air you breathe is only getting nastier. Who knows, in a few short years, we all might be walking around with smoker's lung, whether we smoke or not. This purifier will ionize and clean air, zapping any odors left by pets, sweat, food, or exhaust, and leaving your lungs un-accosted.
This $89 device is available in the Cracked Shop right now for just $19.99.
Keep the outside of your ride looking nifty too with this Telescoping Ice Brush and this Car Tire Plug Set.
Don't stop there! Take it to the limit with even more cool car stuff. Like these 10 Cheap Ways To Make Your Car High-Tech.