Fuck yeah, I know what deconstructionism is. Don't assume shit, bitch.
But you know who should be intimately familiar with Liberal Arts terminology? Fucking Liberals! This is
your
stereotype, guys! The chief tactic you have in appearing intelligent is the ability to spout inscrutable bullshit about pop culture, and make it sound like it's a real thing. If you can't rattle off a few thousand words of dense literary terminology about the emotional schism between duty and self in Quentin Tarantino's
Reservoir Dogs
, then how the hell will everybody know how much smarter you are than them? My god, you'd have to start doing math or something! And let's face it, if you were good with numbers you probably wouldn't be a liberal in the first place. Now, I know that it
is
, in fact, a stereotype – voting liberally does not necessarily equate to a Liberal Arts major – but like it or not, stereotypes are there for a reason, and somebody should be setting the record straight on this one. Not all Republicans are shit-kickin' cowboys, but if rush Limbaugh couldn't tell the difference between Toby Keith and Tim McGraw, you can bet somebody would be calling him out on it. Just like not all Asians are arithmetic-prone
martial artists
, but if Jackie Chan suddenly couldn't tell the difference between addition and a jump-kick, you know the Asian jokes would start flying.
"Hey, Jackie. What's three-hundred and seventeen plus two-hundred and si- WHOA, HEY! WHAT THE FUCK, MAN?!" So when bleeding heart-liberals can't tell the difference between racial epithets and literary terminology, they deserve all the scorn they can get. But that's not to say my heart doesn't go out to them. I want to help you, my puppy-kissing, money-wasting, Sedaris-reading friends. So, in order to prevent future cultural faux pas' like this one, let's do a quick rundown, shall we? Here is a list of famous black characters. Can you tell which are actually magical, and which are Magic Negroes? It's trickier than you might think!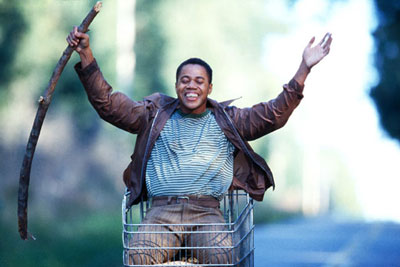 Answer: Magic Negro
Answer: Actually Magic
Answer: Magic Negro
Answer: Actually Magic
Answer: Magic Negro
Answer: Both
Answer: Just Crazy
Answer: Not Black
Answer: Actually Magic
---
You can read more from Robert at his own site,
I Fight Robots
, or you can just burn him in effigy. But before you do that, you should know that he wears glasses. Accuracy is very important in effigies.