in his goddamn sleep,
okay? Dolls, too, and video games. You ask for them, and that shit will be under your tree in the morning, you feel me? Bam! Santa's your hero. But, seriously, what the hell am I supposed to do this year? Just about every letter is like this.
I remember the year Tickle-Me-Elmo's were big. The elves were all pissed off because, after making so many dolls, their fingers were stained red with the dye. That used to be our biggest problem.
Red dye.
And now I have to worry about some bastard's house and the stability of Little Susie McWhogivesashit's
family?
Did I miss something? When the hell did Santa become God? For real, no, somebody tell me, because I wanna know. Here, this next one, too, check this out. It
starts out
pretty good...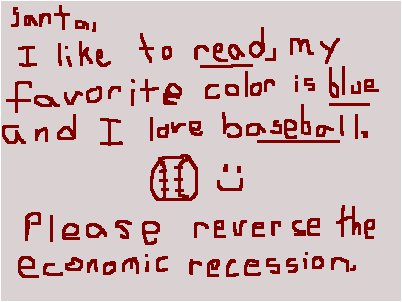 Did you see that? Totally blindsided me with that recession stuff. I started reading it and I'm all "Oh, cool, this kid's gonna ask for a blue baseball or whatever," and then
wham
, I get hit with recession issues. I don't even know what
caused
these problems, but the letters just get worse and worse. What the hell do I do? The kid asks me to reverse the economic recession, but all I know how to do is hand out Xboxes. Will that fix it? Santa doesn't know much about finances, because