... and based on what we know about people, shouldn't it only be a matter of time until that whole place is a charred, smoking ruin? Or a big pile of garbage and toppled buildings, like Idiocracy?
Yet, if we revisit those shit-flinging animals 150 years later, we find their island looking like this:
Sterilgutassistentin/Wiki Commons
This image is also the average apartment size.
Full of marvels of engineering and technology that would have absolutely looked like magic to those stinking, toothless dock workers in the first picture.
But ... how?
How in the hell can the violent, selfish, and stupid impulses of 1.5 million assholes result in a gleaming metropolis that not only has ten times the population, but a population so clean and healthy that they literally live twice as long and have so much food piled up that their most common health problem is fatness? If the average person in America is such a greedy, petty, misguided dipshit, who is producing all the cool stuff that makes the "Amount Of Cool Stuff Produced Per Year" graph over that same timespan looks like this?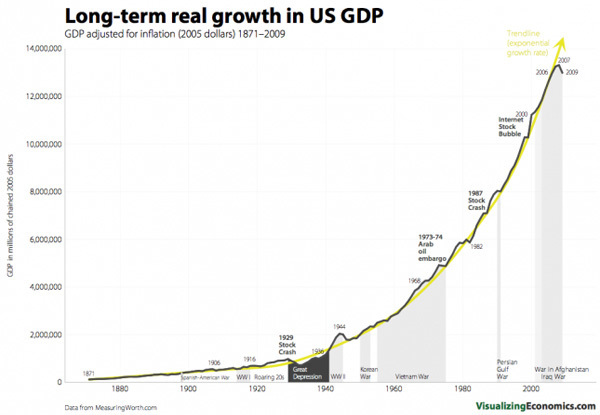 Visualizing Economics
Summation: Pretty good century.
If all governments are corrupt, if all corporations are just gangs of thieves, if all religions are just fearmongering cults, if most people don't give a shit about their jobs, if everyone is a secret racist, why aren't those buildings falling over, due to rampant defects? Why haven't feral savages torn them down for the scrap? Why hasn't tribal infighting reduced it all to rubble? When a model of cell phone starts spontaneously catching fire, why is that a shocking headline rather than the accepted norm?