Hounds of Love
and
Dreaming
, they are
fantastic
, and I'll be letting you know what songs are playing every time I post in case you want to join my pathetic refusal to leave the liveblog.
5:40 PM PST-
Okay, so Hugh Jackman was great hosting the Tony's, but this opening number is one of the worst things that's ever happened to the Oscars. I mean, granted, I still can't handle how much I want to have sex with Anne Hathaway right now, but otherwise this is retarded. Also, Jackman's making a joke about how he hasn't seen the Reader, a joke I made several weeks ago in a phoned in blog post.
5:45 PM PST-
Wow, Jackman sang and acted like a douche. Who could've seen that one coming - the narcissist flailing about on stage first thing in the award ceremony. Was Andy Dick unavailable to host? What's he going to do next - start a breakdancing number when they memorialize Heath Ledger? I would still get sexually weird with you, because you are an excellent Wolverine, but god damn your handsome bastard face, regardless.
5:52 PM PST-
I know Hugh Jackman is really talented and good looking, but do you think that was enough to keep him from being called "Huge Jackoff" all through high school? I was going to say yes, but after seeing that opening number, I'm just not sure. Oh, and Penelope Cruz just won best supporting actress. Personally, I didn't see that movie. I know she's supposed to be super hot and everything, but I can't help but notice how her face comes to a point much like a mouse's. And now she just said something in Spanish I don't understand, but which I assume was "G-Stone, please bring back HBN."
5:55 PM PST-
In my fantasy mind-Oscars, they've sent a nice man out to assure everyone that the nominations of
Benjamin Button
were a gross oversight on the part of the committee, and furthermore, as penance, Brad Pitt will be appearing later as a six-foot baby to do a duet with Elton John. This rum and coke is more rum than coke, although Javier was right; it's GOOD coke. I shouldn't have had him killed. Or as the Colombians say, "Muertoed."
Drunk Status:
it begins.
Non-Oscar related activity of the moment:
Considering whether it would be too gross to masturbate during a break between posts. Consider the fact that I am being paid for this time. Try to reconcile these. And hey, Dhlizard: I find you homely and your posts derivative to those of "Teabag." Your move, ASSHOLE. You know, your pathetic caperings remind me of Hugh Jackman. Am I right? Am I not totally plugged into the whole pulse of this live blogging experience?!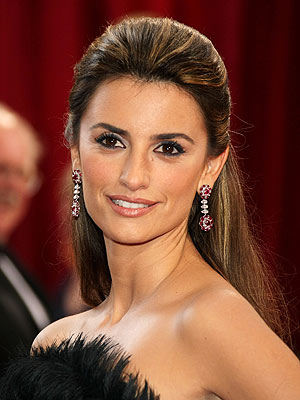 This is happening.
SUGGESTED SOUNDTRACK: Cloudbusting -Kate Bush.
6:00 PM PST-
It's weird to me that they showed movie clips during the nominations for the scripts, but NO CLIPS during nominations for the acting. Wait, not weird. Stupid. I love the Oscars, but this is already one of the worst ceremonies I've ever seen. Meanwhile, I'm hoping Frost/Nixon wins adapted screenplay. Doubt was a carbon copy of the play, Benjamin Button raped the Fitzgerald story, and the reader was totally unseen by me.
6:05 PM PST-
I know Steve Martin hasn't made a funny movie in decades, but I still found him utterly charming and Tina Fey, as always, looked like she needed to be taught a lesson
by my dick.
It would be a short and entirely unmemorable lesson, but I think we'd both learn a little something nonetheless. She would learn not to sleep with strangers staking out her apartment, and I would learn that persistence pays off regardless of what those fucking restraining orders say. I sincerely hope those two hook up after the show though, so all that erotic fan fiction I've been writing would have some basis in reality, and no longer just be the deluded fantasies of a pop-culture obsessed pervert.