You're a Loose Cannon!
In most cop movies, the police chief hates you, and the mayor is always up his ass about it. In this movie, it's "Good morning, scotch-soaked heroin addict with a dead partner! Here's a special assignment!" Well, surprise: Van Damme blows it. A few minutes later, he gets executed with a gunshot to the head.
The End, Right?
In a gruesome ER scene, doctors manage to keep the worst character to ever live alive. As they pull the bullet out of Van Damme's head, it's strangely realistic. Maybe
too
realistic. I wouldn't put it past the monsters who made this movie if they just killed one of his stuntmen. Which might explain why several of the steaks that craft services put out the next day had tattoos.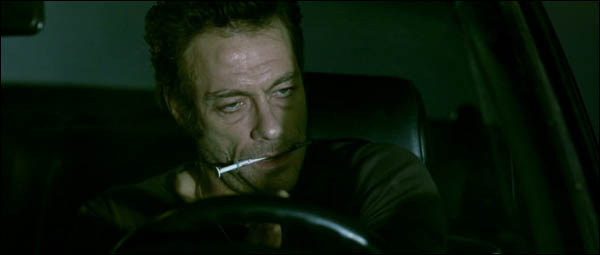 Let's Recover From a Coma, Gang!
Since no one in this movie is nice, his wife's new boyfriend mocks Van Damme's recovery with, "From asshole to vegetable in one bullet!" Van Damme slowly relearns how to walk and talk, and I intend no insult when I say that he performs not knowing how to do these things very well. In fact, I'd say "Recovering Coma Guy" was the role he was born for if he hadn't already played "Gay Karate Man" in
Monaco Forever
and "Timecop" in
Timecop
.
Spoiler Alert
You know in John Woo movies when the two adversaries hold a gun to each other's heads? If you're like me, you've always wondered what would happen if they both pulled the trigger.
Until Death
answers that question, and it turns out that it's
Duh
. I guess I shouldn't have expected a happy ending after 90 minutes of heroin and executions.
Jean-Claude Van Damme as
... Jack Robideaux, a cop who counters his lack of personality by carrying a bunny.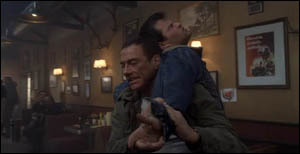 Touchy Subject:
When a cop is transferred to a border town and put in charge of keeping illegals out, a normal movie would have him start as a hard-nosed xenophobe that slowly empathizes with the hardships these proud people are trying to escape. Well, Jean-Claude doesn't make normal movies-- he kicks them until his leg breaks. In this movie about border crossing, he only meets two Mexicans, and neither time does it go well.
His First Mexican Encounter:
Van Damme sees a group of illegals crossing the border, and tackles one. He's wearing a C4 vest and trying to do something that sounds like talking but isn't. Untrained in bomb disposal, Van Damme starts fiddling with wires, because why not? The bomb squad guy shows up and makes him go away, probably moments before he tried kicking it inert.
Dramatic Defusing!
The bomb squad guy shouts, "It's an optical fiber based CLC casing!" to Jean-Claude and several other people who wouldn't know what that means. If he expected someone to say something about how smart he was, no one did, and he snips his first wire. Oops. He briefly exchanges with the Latin gentleman the international expression for "oh shit," and dives away from him and his exploding chunks. It seems like the only real training he received in bomb school was the ability to awesomely somersault away from detonating Mexicans, so he might as well have let JCVD take a crack at it.