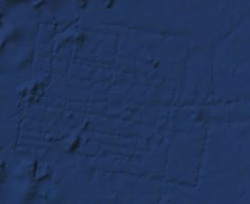 Last week during a slow news day, it was reported that a man in England found what appeared to be
a grid-like network of roads on the floor of the Atlantic Ocean
using the latest version of Google Maps. Naturally he immediately assumed he had found the lost continent of Atlantis, and alerted the appropriate authority, which in England is apparently the
Telegraph
. One thing you'll notice if you look at this on Google Maps yourself is that the area is huge, and actually pretty easy to spot. I'm serious,
go see for yourself.
Unlike those stories where Google Earth was used to find ancient Roman villas or undisturbed forests, and involved someone with multiple Ph.D.s sitting hunched over a computer for days on end, this "Atlantis" can easily be spotted by a half wit with four or five beers in him
(That's a pretty fair description of most English, actually)
.
The fact that it's so easy to spot suggests to me that it might not be terribly unique. In fact, after a couple minutes of scrolling around the world, I've found similar straight line/right angle combinations off the coast of Ireland, in Hudson's Bay and a little northeast of Siberia. Which means that the Atlantians were either prolific road builders and I just became the world's most incredible oceanographer, or that I have found absolutely nothing, and remain the idiot that genetics and past history say I am and always shall be. So what to make of these lines then? Well, in the original