Part of being a Cracked.com columnist means staying on top of trends in pop culture and knowing what's HOTT! And nothing's hotter right now than those delightful Facebook memes. But before we talk about Braggaboo --the newest, hottest one of all-- let's do a quick review of some old favorites: First there was the
List of 25 Things
where your friends shared amazingly off-beat and amusing details about their lives:
Then there was the one where you assign all your friends identities in a cartoon filled with
Little Miss
characters. That one's super funny because you're saying your friend is like a little, blue, round dude with a flower hat even though your friend totally doesn't wear flower hats. He's not even blue! LOL!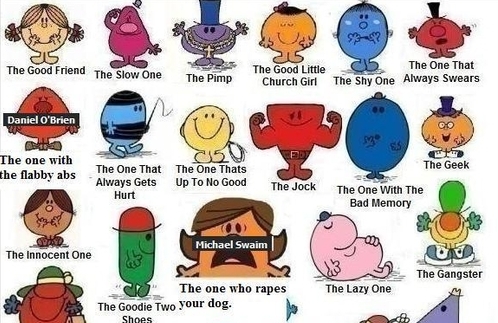 More recently, people have been making album covers for their own fake bands, following directions that take you to various websites for words and images. And the results are always as enjoyable as they are convincing. This could totally be a real album!
But the new one that's super hot right now is called
Building The Perfect Braggaboo
! And everyone's doing it. How? It's simple! Just follow these quick and easy steps below.
BUILDING THE PERFECT BRAGGABOO
1.    First, type your deepest childhood fear into