The X-Men Meet Sam Kinison
, it held true for
Huey, Dewey, Louie and McVeigh
, and dammit, it'll hold true for
Idol
.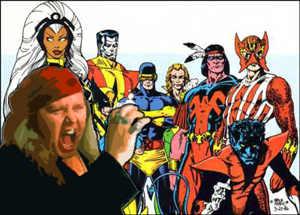 Simon's mellowed in his old age, and the American people want blood, plain and simple. The new
Idol
judge has got to be a shot in the arm, literally if possible. Is Kara DioGuardi willing to punch singers in the arm if they get too rangey? Because I am.
Idol
Producers, your selfishness has cost you everything, and while smaller men than myself might revel in your demise, I for one want to see
American Idol
live on. Therefore, I'm giving you a second chance. I will allow you to re-hire me. All I ask is that you publicly fire DioGuardi on the air (have Seacrest do it), put the show on sabbatical for retooling, and rename it
Aswaimican Michael
. In case you're not yet convinced of my charm, musical knowledge, or capacity for petty cruelty, I've provided here my witty, insightful, off-the-cuff responses to a wide range of singers, from amateur to professional to Rick Astley (which is to say legendary).
"I'm sorry, and not to offend, but this sounds like if a drill were jammed into my ear, except the bit in the drill is made of a bunch of annoying squeaks and whistles, and the guy doing the drilling is gargling urine at the top of his lungs. Again, I'm sorry if that seems 'harsh' to you. I'm just speaking the truth, because I care about this competition, you fat, pimply, whore."