I mean, I'm just guessing. Maybe a small (or larger) token of your love for someone in need? I saw something like that on Dr. Phil before they took the TV, and it seemed to really give the guy a sense of deep meaning and peace. "Bailout" is such a funny word, too. I think it comes from sailing, when a ship would have a slow leak and people would have to "bail out" the water to keep from drowning. I can really imagine what that was like; slowly going numb as icy waters creep up towards your mouth. I really can. And you can't always bail yourself out; sometimes it takes the whole crew, pulling together. I bet sometimes, when things were really looking bad on a ship, they'd use things to try and plug the hole. Like something absorbent and papery. Probably, they'd be so panicked, they'd use whatever they had in their pockets. Yep, I'll bet they'd take wads of money even, and just use that to plug the hole. Imagine: a six hundred dollar hole.
Did I mention I don't have a bucket? I've been meaning to buy one. I think the important thing about this 700 billion dollar bailout is that it's being given with no strings attached. It's heartwarming, really. Even though the banks have made some mistakes in the past, the President realizes that it's important to encourage young people in their time of need. AIG may be in a tight spot, but they're trying, you know? They're probably working their butts off everyday, auditioning, writing spec scripts, jumping in front of celebrities' cars…metaphorically. So to have Uncle Sam help out in a time of need just means so much. How is Uncle Sammy, by the way? Please send him my love and a copy of this letter. I should go now. T-Boz is finishing up her dinner, and I want to try and talk to her again before she leaves the restaurant. It took me so long to track her down!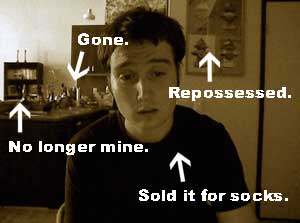 Hope to see you soon. If I don't write for a while, it's because my address has changed. You can just write to the Homeless Shelter on Fairfax; I keep a P.O. Box there. Oh and Mom, since you asked about it: yes, you
can
transfer money directly into various accounts online. If you want, I'd love to show you how. Your beloved son, Michael P.S. 600 dollars.
---
When not writing for Cracked, Michael is doing just fine financially as head writer and co-founder of
Those Aren't Muskets!