Painting a tunnel on a wall requires a lot more than just paint and a treacherous heart. You're trying to portray a three-dimensional scene on a two-dimensional surface. To even have a chance of doing that, you need to totally understand the concept of perspective.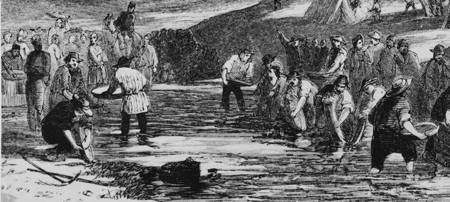 Rischgitz/Hulton Archive/Getty Images
No, that's prospecting.
The details are a little complicated to get into here. I suggest you practice drawing for five to ten years to get the basics down. Basically, it involves all the parallel lines in the three-dimensional scene converging to a vanishing point in the distance. Railroad tracks are an excellent and simple example, and it's no coincidence that so many fake tunnel practitioners make use of them in their craft.
JohnnyWalker61/iStock/Getty Images
Looks like a tunnel, right? Wrong. If you move a little to the side, you'll see it's actually an image on your computer screen.