So the second movie of the year about mall security officers came out this weekend, leading many entertainment observes to cry out, "Seriously WTF?" or words to that effect.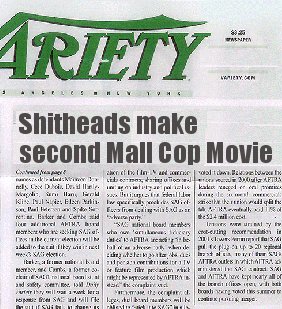 Hollywood of course has a
long history of releasing similar themed movies within months of each other
, but this pair feels a little over the top. Two asteroid movies in one year seems downright reasonable in comparison, and even the two volcano movies almost seem plausible. But two movies about mall security in three months? Speaking on behalf of the world, I have to ask, "Hollywood,
are you fucking with us?
" I haven't seen either of these two movies yet because I'm pretty certain that they're both terrible. (Don't worry; years of writing Internet comedy has given me the ability to make pretty accurate snap judgments like this about movies, other creative works and entire cultures.) Based on the ads alone I can probably tell you exactly the plot of both these movies. They're about mall security guards and are terrible, right? See, easy. The problem is that the concept of "mall security guard" lends itself to five or six really obvious jokes and themes. One big trick with humor is ignoring these obvious jokes, and approaching your target from a different angle. (Failing that, it also helps to insert obscene biological acts, or references to 80s cartoon shows.) Looking at the ads, I can tell that the creators of these two movies did not ignore those obvious jokes, meaning we've already seen these movies before they were released.