Ah! The man's muscles were finally unseizing. He pulled himself up with some effort and glared at me savagely, his eyes burning with shock, rage, and grief. I returned his glare, with eyes burnt mostly from sauce-packet liquor fumes.
"First off," I said, raising my hands in placation, "your daughter's fine. That was just a prank I pulled to get you down here and listen to my pitch."
"Pitch?" He shook his head, trying to clear his mind from the Tase-chucking and pepper-gas.
"That's right! I'm sorry. How rude of me; can I offer you a drink? I've got mild, medium, and fire," I offered, generously squeezing sauce packets into my cupped hands for him.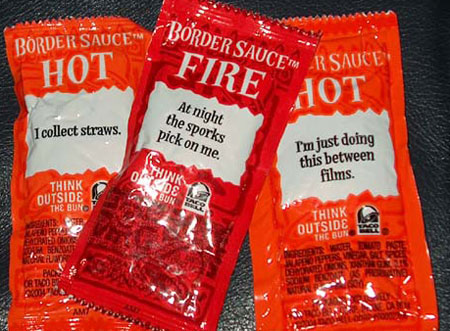 Like this, but alcoholic and almost certainly poisonous.
"No, I…you…you son of a bitch! You son of a bitch, I'll kill you!" He started to rise up but I motioned for him to be calm. Well, it was less of a 'motion" and more like a 'severe tasing,' but he was calm, regardless.
"You can't go now! You haven't even heard my pitch yet! It's got everything: Love, loss, tears, titties, a motorcycle, eight ducks, a Zamboni driver, a –"
"This is about a movie? You think I'll greenlight your movie after you told me my daughter was beheaded by a garbage truck and then hit me a stun gun?"
"Taserchucks, actually. But yes, I do. Because you're a man that recognizes genius, and I'm a man that recognizes fear. Let me just jump right into it…"
***
"The year is 2013, and the world as we know it has ceased to exist. After the great oil wars of 2009, there arose the grand dynasty of the New Puritans, an evil empire which ruled with an iron fist for a thousand years…"
"That doesn't even work," Geoff interrupted, "the oil wars of 2009? There's like eight days left in 2009. Also, you said it was 2013, so how can a thousand years have pass-"
"I've a riddle for you: What's the sound of one hand, tasing?"