Some Canadians, primarily those who come from the families of merchants, do seek out health care on the black market. It's widely rumored that in the underground, joint replacements can be had in exchange for two or three cartons of Marlboro cigarettes or a pair of Levi's. The government has naturally tried to discourage these insidious flare-ups of two-tiered health care. Nightly newscasts by the Canadian Department of Facts regularly point out that black market health care facilities are poorly maintained, and their workers are faceless monsters who feed on the flesh of the living.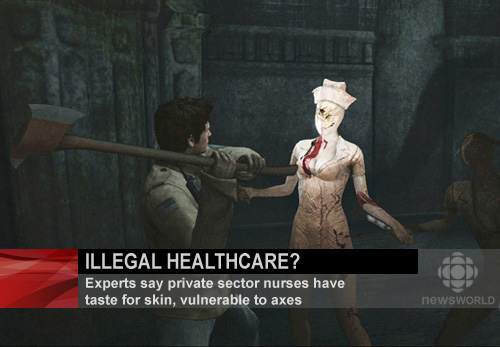 All of the above is common knowledge however - something anyone can learn by opening the Wikipedia page on Canada and reading between the lines. To dig a little deeper then, and get the straight journalistic dope that Cracked readers desperately crave, I also spoke to local Licensed Health Distributor, Doctor Neil Channing. The interview transcript is below.
_______
Chris Bucholz: All right, the recorder is running. This is Chris Bucholz, Government Journalist ID A26732243, Registered Satirist number 58008. The date is August 8th, 2009. With me is Doctor Neil Channing of Health Distribution Centre PYR-27. Shall we?
Neil Channing: Let's.
CB: We hail the glorious government of Canada. We hail its far seeing leaders who stand vigilant against our numerous enemies.
NC: Death to the bourgeois, may the Canadian people be forever free from their nine tentacles of deception.
CB: Kadosh! -pounds fist into hand-
NC: Kadosh! -pounds fist into hand-
CB: OK then. Doctor Channing, I'm glad you could make time for me.
NC: No problem.
CB: The reason we're talking today is I wanted to get an idea from you what challenges you face, as a practitioner of medicine in a country where the government provides basic health insurance for all citizens.
NC: -louder, speaking into microphone- I face no challenges at all, Chris. The system works perfectly.
CB: Thank you for your time.
________
As you can see, the Canadian health care system is the pinnacle of human achievement. With the measures and processes in place, costs are kept under control, average life expectancy is steadily creeping towards 120 and the first generation of flying infants are expected to be born in 2085.
Hail, hail Canada!
__