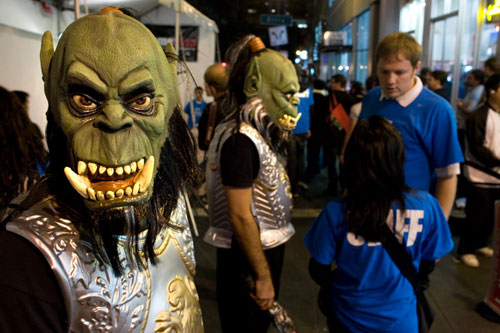 Nerds: Do they just spring from Gamestops fully formed, like Smurfs from mushrooms?
"Would you like to sign up for our Blaster Points card?" the pushy virgin-king at the register asked me. "No." "Would you like to pre-order
Sports Game 12: The Sportsiest
today?" "No." "Would you be interested in signing up for our Rad Game Masters embarrassing newsletter this eveni-" *** After 42 more minutes of intense personal questioning that culminated in a full prostate exam, I was allowed to make my purchase and leave the store. Upon returning home, and after taking a searing hot shame-shower, I plugged in my new system and navigated the many set-up menus, high off the smell of new plastic and giddy with gadget-euphoria. When it was all ready, I signed onto the high-tech, MMO-like virtual reality service that was the Playstation's version of Xbox Live. I was floored by the potential. A whole other world constructed just for gaming! Why, with a place like this you could seamlessly integrate a multimedia center with strangers half a continent awa- Where the fuck is everybody? There wasn't a soul in sight; absolutely no trace of human occupation. Jesus, it was like Wyoming up in there.
He... hello? Hello? Did I do something wrong? Is this purgatory? Was that a tumbleweed? Did they virtually render a tumbleweed just to mock me? Is this supposed to be the post-apocalyptic level that illustrates the crushing loneliness of a world built for habitation, when all the people have long since passed on? After several hours, days maybe (in a world devoid of culture, what meaning has time?) of wandering through empty malls, deserted movie theaters, vacant bowling alleys and eerily silent plazas, my heart skipped a beat at what I saw. Was that a person? My god, it could be! The figure was far-removed--impossibly distant--but there was definitely something there. Oh God, please let this be real and not a hallucination brought on by the solitary weight of despair. If only I could reach him! All the personal connections I took for granted on that other gaming platform, all the opportunities to form a meaningful bond between human beings I'd wasted – not here! Here I would savor those chances! Here in this desolate wasteland, where human companionship is the most valuable currency, our empathy would be driven by necessity. Friendship, by its very scarcity, would have meaning again!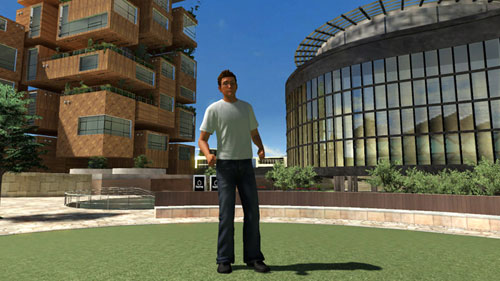 I will never again take humanity for granted! Please, I'm so terribly alone! Wait, he was stopping. He saw me! A friend! I had found a friend! A companion to stave off insanity! "My fellow man," I desperately typed, "I thought you were a vision! A hopeful hallucination too cherished to be real! Hail and welcome, friend! I never thought I'd be so happy to see another human being!" A long, insufferable moment passed as I awaited his reply. I would have to be patient; we had so much to say! Not like Xbox Live, where human companionship was cheap and words were quickly thrown away like verbal garbage. This place would be different! "Lolz," came the response, 15 minutes later. "Fagzor." I wish I could tell you what he said next, but apparently the Japanese can't fucking build anything to withstand even the most half-hearted, heartbroken of jumpkicks.
---
You can pre-order Robert's book, Everything is Going to Kill Everybody: The Terrifyingly Real Ways the World Wants You Dead on Amazon, or find him on Twitter, Facebook and his own site, I Fight Robots, where you can find more new bitching about old news!