When they aren't having gorgeous models pose for them or taking cover in an active war zone, photographers love to kick back with a fresh cup of coffee. What better way to celebrate your camera chops and your need to always be on the ready than with a travel mug that's shaped like a DSLR lens? It stirs your coffee for you, and it's only $12.99.
IllumiBowl 2.0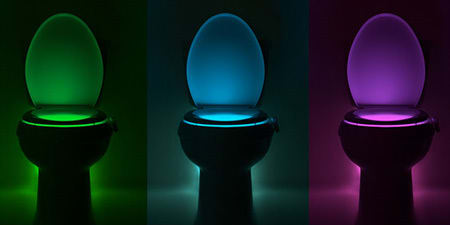 Unless you are a dog marking your territory, going in blind for a midnight pee isn't wise. (And even then, you might want to sniff around first.) As a civilized adult human, your bathroom might have lights, but fumbling for that switch in the midst of a midnight stupor is bound to leave you tripping over a bathmat at least once. Thanks to the powers of intense neon, though, you will no longer be lost in the poop dungeon. The IllumiBowl 2.0 is motion-activated and turns your toilet into a glowing throne, for $12.99.
MOS Cable Organizer
If you love to fetishize those impossibly pristine workspaces that you see on Instagram and in hipster stock photography, the MOS magnetic cable organizer will help boost your office to their level. It keeps your MacBook cable on-hand, and could probably be used to pick up spare change from inside your couch too. Get one for $11.99.
Any Clever Yoshis able to make our nightly binge of RuPaul's Drag Race just that much simpler are alright in our book. We Salute you, good sirs.
For more smartypants hacks, check out 6 Cool Cracked Items That Will Make You Look Hella Smart. We believe in you.