Samsung T209
for Halloween? No. Wanna know why? Because it's JUST A FUCKING PHONE. Time to move on.
---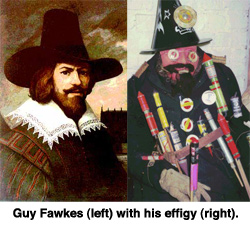 Global Holiday Smackdown: HALLOWEEN
Global Contender #1: Guy Fawkes Night
On November 5, 1605,
Guy Fawkes
(the
V For Vendetta
guy) and his merry band of militant lunatics tried to blow up the Houses of Parliament. It was called the
Gunpowder Plot,
and it reads like something out of a bad heist movie: In an effort to kill Protestant King James I, a group of Catholics leased a house next door to the House of Lords and filled a hidden cellar with 36 kegs of gunpowder (which they transported by boat up the Thames). Unfortunately, an outbreak of Black Plague postponed the opening of Parliament and they were sold out by an anonymous narc, after which they were summarily tortured and executed. That probably sucked, but at least they got a holiday named after them. Guy Fawkes Night commemorates the foiling of the plot, and the celebration involves fireworks displays, bonfires, and burning lots of Guy Fawkes effigies. They also traditionally eat "bonfire toffee" and "groaty pudding," but cut them some slack: They're English.
Cool Factor (out of 10):
14 Fireworks and effigies to commemorate a bunch of dudes who tried to blow up the government? Sign me the fuck up!