But even though the entire movie revolves around Gru, a supervillain voiced by Steve Carell, trying to steal the Moon, it doesn't really go into the specifics of such an operation. All it says is: Steal a shrink ray (from where?!), fly to the Moon (how?!) ...
Universal Pictures
Sit on the toilet (how long?!)
Worst of all, the whole thing irresponsibly glosses over the dangers of having the shrunken Moon in Earth's atmosphere, and it suddenly going back to its original size, exactly like in the movie finale. But where Despicable Me has failed, science stepped in to address that question, and the answer they came up with is: "Oh God, oh Jesus Almighty, they're all dead! My whole family ... so many bodies!"
According to science, if the Moon was just 20 times closer to Earth, its gravitational force would be 400 times stronger than it is now. Now multiply that by at least 100 because that's how frigging close the Moon got to us at the end of Despicable Me.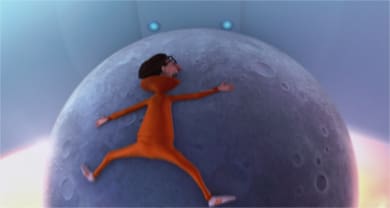 Universal Pictures