that whale thing
I blogged about a while ago? The Japanese agreed not to go Ahab on some Humpbacks, and we all breathed a collective sigh of relief then went back to our Jr. Bacon Cheeseburgers.
Well, Greenpeace wasn't willing to drop the issue quite so easily, and have in fact been
following the Japanese fishing boat
around in their own boat, which we must assume is a giant floating pita pocket. Subsisting on a diet of falafel and self-importance, these brave men and women have devotedly tracked down the Japanese, setting up
webcams
and continuously
blogging
about their nefarious plans to kill
overly abundant
whales. That's right; setting aside the Humpback issue, the Japanese are now planning to kill 935 Minke whales and 50 Finbacks, neither of which are endangered and which are in fact depleting fish stocks. Despite it all, Greenpeace members say they are willing to "get between harpoons and whales if necessary." The harpoons the Japanese use are tipped with explosives, so no matter what the ultimate outcome of this whole thing is, there's a good chance it's going to spawn some entertaining Youtube clips. Ross?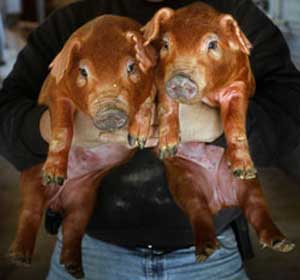 Next, Friends of Earth International (the plucky, up-and-coming environmentalist group) is protesting