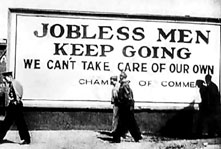 If you're like me, and like to keep abreast of developments in the world of markets and finance, then you probably know that the world economy is
headed into the toilet
faster than Kate Moss after a breakfast buffet, and we may soon be in for a depression so great it'll make Heath Ledger look like Richard Simmons. Sure, you're thinking, sucks to be us, but what can an 18-to-34 year-old unemployed couch-dwelling male such as myself do to help? Well, I'm glad you asked, my freeloading friend, because the Cracked Economic Forum has just the suggestions to help
you
help the United States and its global subsidiaries get back to kicking monetary ass with
extreme prejudice
. Let's begin!
Get your own affairs in order
. This is beneficial because a) you can make smarter buying decisions, such as purchasing an awesome Wii at only an 80% markup, instead of a suckass Playstation that was probably built by gay Communists; b) having any affairs whatsoever would be awesome because before you can have affairs you have to be dating someone; and c) you've got six months to live.
Create a budget and stick to it
: One of the most difficult things for ordinary non-rich people to do is to give themselves a set budget. One way to do this is to arrange to have pre-set spending limits on your credit cards, gas cards, and prostitutes.