so
passionate, that sometimes it seems like vaccinations are the
only
things
they
talk about.
If Jenny McCarthy was just an advocate for autism research, or even just an advocate for vaccination investigation, I wouldn't have a issue. Vaccinations are not without their risks--though the risks are extremely,
extremely
rare--and educating people is a good thing. We have 26 more vaccinations than we had a couple of decades ago, and that's a subject that's worth discussing. Wanting to talk about the
potential
problems with vaccinations is useful, but going on a some
shitty doctor talk show
with your team just to
scream in the faces
of a couple of doctors, is not. If you can't watch the video, I'll give you a run down:
1)
A doctor explains that, though we have more vaccines today than we used to, we also have a lot less kids
dying from meningitis and polio than we used to.
2)
The doctor explains that, if parents suddenly stopped getting vaccinations for their kids,
more children will die
.
3)
Jenny McCarthy terrifies the doctors into silence by making a face that is precisely a cross between Catwoman, snakes that can hypnotize you and
all of my childhood fears
:
4)
Jenny and her antagonistic friend spend a few minutes finger-pointing and screaming at the doctors.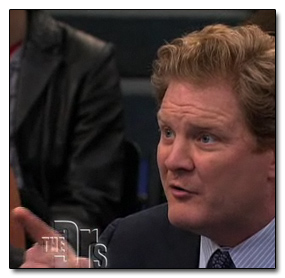 5)
The stupid doctor with the sideburns almost cries.
Opening a dialogue and doing research is useful, but how is
that
useful? How is it helping
anyone
when you jab your finger at a doctor, and accost him like
he's
the root of autism while you prompt the audience for applause? [Sidebar: If you can get past what a ridiculous, overdramatic display that clip is, it's worth it to see the whiney sideburns doctor in the scrubs flip out. He never says it, but you can still totally tell that he's begging to scream "I'M A FUCKING DOCTOR! I FUCKING SAVE LIVES! NO ONE CAN BE MEAN TO ME!"]
Headlines Stick
That subheading is right. Headlines
do
stick. Most people don't get past the headline, in fact, so even though Jenny's
thesis
might be "Vaccinations
might
be dangerous," the
headline
is "VACCINES ARE AUTISM ROOOAAAARRR." Headlines stick, and then they snowball, because that's how it works. When someone gets on stage and shrieks that "vaccines contributed to autism," they're not raising awareness of autism or opening up dialogues about it; they're fostering a generation of alarmist supermoms who will say "No" to every single vaccination all too quickly, because the headline is still lodged in their brain, regardless of what comes after. Think I'm wrong? Do you remember what happened the
first time
an idiot publicly ran his mouth about measles mumps and rubella vaccinations leading to autism? Rates of MMR inoculation dropped by over 10 percent almost immediately. But don't worry, not
everything
went down. One statistic went skyrocketing from 56 all the way up to 1,348. Do you know what that statistic was?
The number of confirmed diagnoses of fucking measles.
Oh, and by the way, the doctor who published that initial study, the one that planted the seed of doubt by initially claiming that vaccinations cause autism?
He faked his results,
and the headline of his fake study
still
infects society today.
Celebrity Culture
Now, Jenny McCarthy, I'm not saying that autism isn't heartbreaking, and I'm sure you want someone to blame, and more importantly you want to do something to prevent autism for the future. Also, you want to be mad, like everyone else in your position. I know this. But I also know that, in general, people like to listen to the nice, good-looking people that talk on their televisions. And you're one of those people, Jenny McCarthy, so you