That's just a fun-sized sample of Kokopelli's sexual antics. The main course is his detachable, pussy-seeking rocket cock. Some tribes believed that Kokopelli could detach his penis from his body, perhaps with a single, satisfying pop ...
And then, he would toss it into a river. His penis would then swim downstream until it came upon a group of fertile young women bathing in the waters, where it would give them a proper impregnating. The myth never clarifies if his balls were detached along with the shaft, but if he's impregnating the women, they would have to, right? The only alternative is that his penis had a smaller, secondary reserve of semen specifically for these unmanned missions -- just enough semen for a quick supply drop and then back to home base.
An autonomous swimming penis must be a beast to wield, which probably explains why Kokopelli is commonly depicted as dancing while playing a flute that is almost always pointed directly at his penis.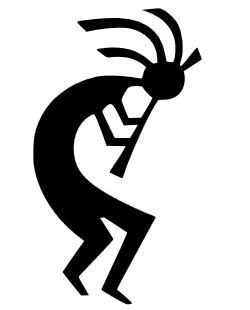 "Sleepy, my pet. Sleeeeeeeeeep.".